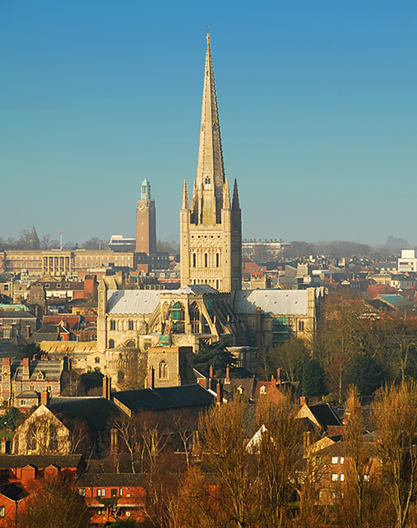 NORWICH
Norwich
Norwich is a wonderful fusion of the modern and historic, one complementing the other. Just like any great city its center is easy to walk around and has a river at its heart. As well as one of the most complete medieval city in the UK. It has a flourishing arts, music and cultural scene, lively restaurants, bars and nightlife and a heritage that are worth to explore. It was also England's first UNESCO City of Literature.
The only city in a National Park
Norwich is a wonderful fusion of the modern and historic, one complementing the other. Just Like any great city its center is easy to walk around and has a river at its heart. It is the only English city in a National Park, the Norfolk Broads.
Medieval city
As well as being the most complete medieval city in the UK, it has a flourishing arts, music and cultural scene, superb independent as well as High Street shopping, lively restaurants, bars and nightlife and a heritage that is a delight to explore. It was also England's first UNESCO City of Literature – this is a city of stories! The city's historic street layout is wonderfully haphazard, but there's no need to get lost, just look for the obvious landmarks – the spire of the majestic Norman Cathedral, the domineering castle on its tall mound and City Hall's clock tower.
UK Top shopping destinations
Norwich Market is a vibrant riot of color and commotion that's surrounded by some of the city's great historic buildings, including the flint 15th century Guildhall. Underneath the rainbow-colored roofs you will find stalls selling everything imaginable at the very reasonable price, the market is open six days a week. The city is also a shopper's paradise, with two shopping centers and four department stores, many independent stores and boutiques in the quaint Lanes and Timber Hill. Rated in the Top 10 UK shopping destinations, you'll soon realise why after you visit them.
Travel Back to Medieval England
The Historic city of Norwich has everything you would desire of a vibrant regional capital.Norwich is the most complete medieval city in Britain. Such contrasting boasts show a rare blend of historic interest and modern sophistication. Explore the intricate network of winding streets and over 1,500 historic buildings, 58 parish churches stood within the medieval city walls of Norwich. 27 of these buildings have been lost, many in the religious turmoil of the mid-16th century or during the air raids of World War II.Throughout the city center are networks of narrow alleyways lined by buildings that date back to the Middle Ages, giving Norwich a distinctive character. Dragon Hall, a 15th-century trading hall, features an eye-catching beamed ceiling that's been beautifully restored. Other medieval buildings include the elaborate Guildhall, with its checkered-flint facade and St Andrew's and Blackfriars' Halls, which date from 1470. The cloistered Halls formed part of a medieval priory, but are now used for concerts, fairs, and festivals.
Moving Industory
You can get quotes for Norwich removals in seconds through DeliveryD2D.com . Yes, in just 1 minutes you fill your requirements and within few seconds we solve all these problems by saving you time by showing you tons of quotes from your local transporters. Spending one minute on DeliveryD2D.com can save 80% of cost above all we have years of experience conducting domestic removals in Norwich. Our Transporters and staff can work out far cheaper than renting a van for the day. Offering a removal package from a full packing service, house removals to cleaning services. DeliveryD2D.com provide service that covers the whole of the UK.
Cathedra
Norwich Cathedral was founded in 1096 by Bishop Herbert de Losinga and built using Normandy stone shipped over from Caen. By 1145 the building had been completed, under the direction of Bishop Herbert's successor, Eborard de Montgomery. It is open to visitors of all faiths and none. In beautiful grounds it's an inspiring view, this is one of the most gorgeous architecture around, magnificent art and a fascinating history. One of the finest complete Romanesque cathedrals in Europe, with the second tallest spire and largest monastic cloisters in England, it houses more than a thousand beautiful medieval roof boss sculptures.
Tombland
Tombland was the site of the Anglo-Saxon Market Place before the Normans arrived. By the way, the name 'Tombland' has nothing to do with tombs – it means open-space. Based on a cross-roads that date back to the time of the Iceni, the layout of the roads was radically changed by the Normans who gave the whole East side (up to the river) to the church. In the photograph above you can see two of the gates that lead into the Cathedral grounds.
Castle Museum and Art Gallery
Built on a large artificial mound, Norwich Castle consists of a splendid Norman keep constructed in 1094 by William II that is now home to a superb museum and art gallery. Set out as a rotunda surrounded by various galleries containing extensive archaeological sections in addition the castle's interior also houses natural history dioramas and collections of medieval weapons, glassware, and ceramics. The painting collection includes English and Dutch just beneath the castle is the Royal Norfolk Regimental Museum with its excellent collections of uniforms, medals, and paintings the city's spacious Market Place.
Norwich City Center
Exploring the center of this delightful city will lead to the discovery of such gems as Strangers' Hall in Charing Cross. A medieval merchant's house now serving as a museum documenting domestic life from the udor period (1485 and 1603) to the Victorian era through costumes and furniture.
Steam Museum and Gardens
The site was purchased by Alan Bloom in 1946 but it was not until March 1961 when the horticulturist bought his first traction engine, named Bertha which still enjoys a home at the museum. Until his death in 2005 Mr Bloom's steadily grew his collection of engines and added narrow gauge railways turning the gardens of the small Bressingham estate into a homage to his interest for the bygone age of steam. Locomotives running the five miles of track include the Royal Scot which is the last British Rail steam locomotive in passenger use. Alan is still very much missed. He was not a purist who only collected one type of locomotive. Here's it's an eclectic mix. His whole idea was to create a place for family fun.
10 Top-Rated Tourist Attractions in Norwich
Norwich Cathedral
Tombland: The Heart of Historic Norwich
Norwich Castle Museum and Art Gallery
Norwich City Center
Dragon Hall
The Norfolk Broads
Hickling Broad and Horsey Windpump
Bressingham Steam Museum and Gardens
Sainsbury Centre for Visual Arts
Norfolk and Suffolk Aviation Museum
Our Services
Price Comparison Instantly
Choose from a wide variety of Vars in all sizes, also available for a daily, hourly or rental plan
Buy your furniture from anywhere and have it delivered for less with us
DeliveryD2D Business offers complete transport solutions for businesses. Try us now!
Receive multiple removals quotes from trusted companies just on few clicks just visit our DeliveryD2D.com
Buy on eBay – Deliver it with DeliveryD2D and Save up to 80% on your move
We move anything door 2 door
Popular Van Hire Locations in the UK
We provide service for all the following cities and cover the whole UK
YOU'RE IN GOOD HANDS.

We cover entire UK coverage
Compare quotes instantly
Local verified transporters
Top-notch customer service
We are marketplace for man with a van. Compare prices instantly for over 100's of nearby transporters.
TOP-NOTCH CUSTOMER SERVICE
Need help with order? Have a question about your driver or the van? Contact us
Or call us on  020 3322 2142